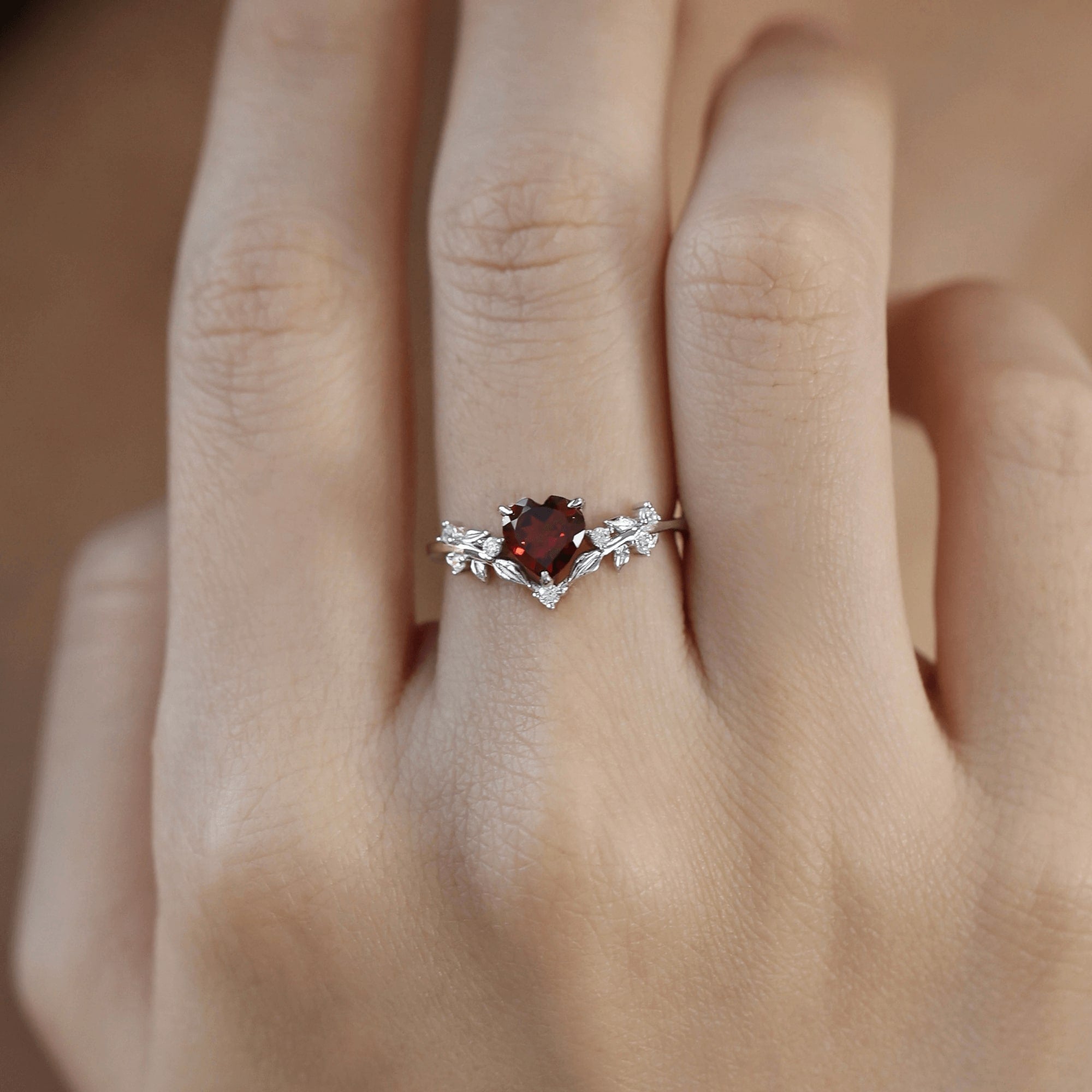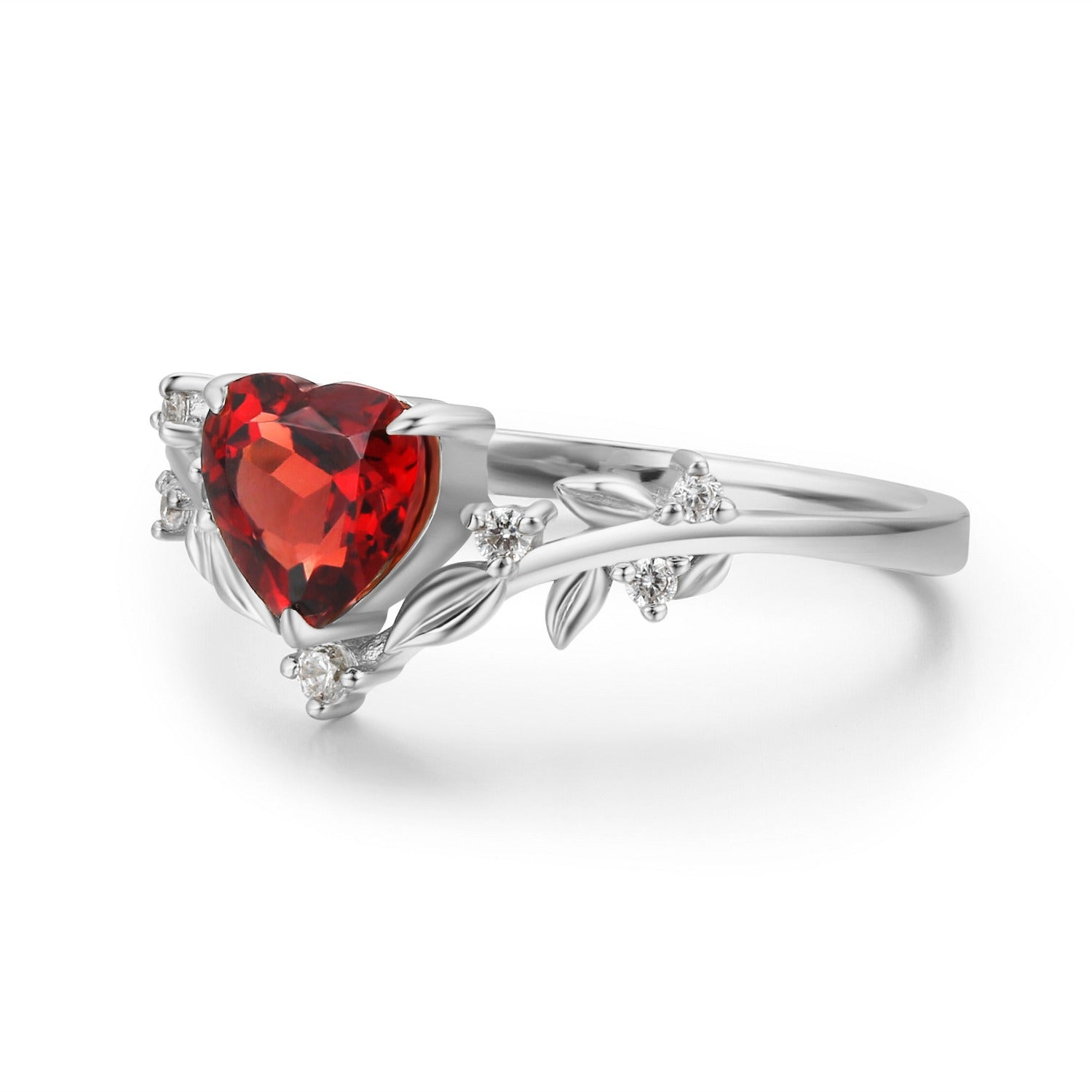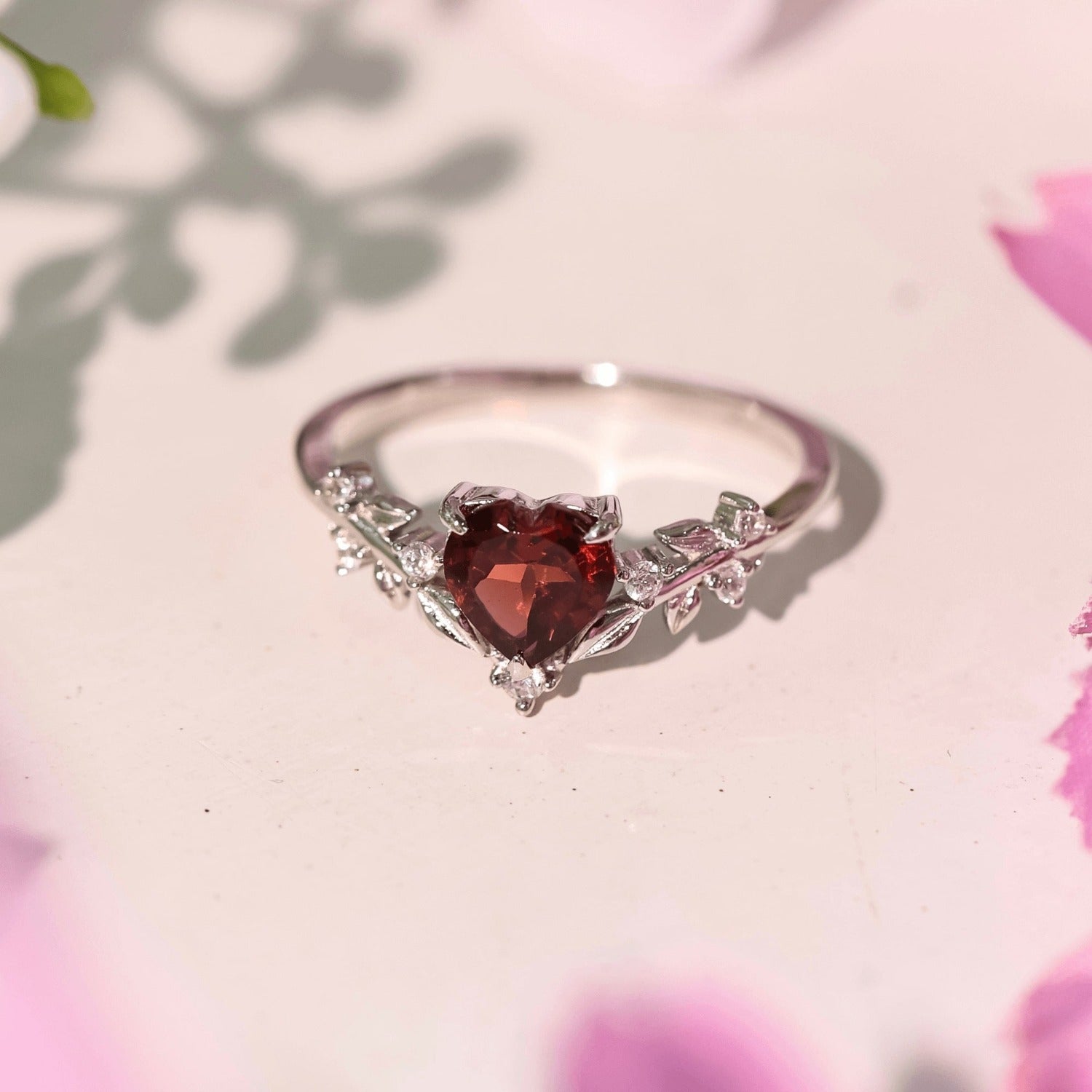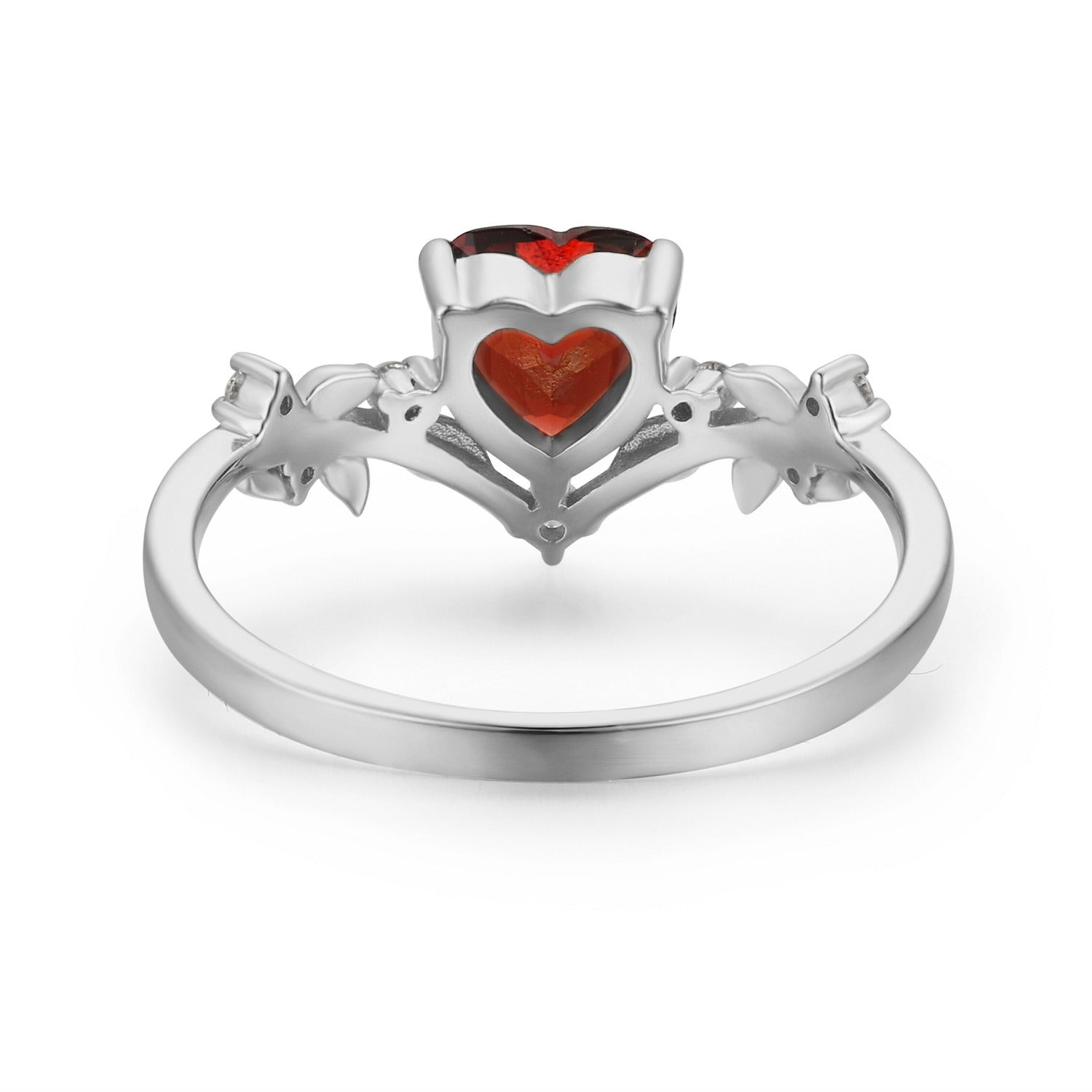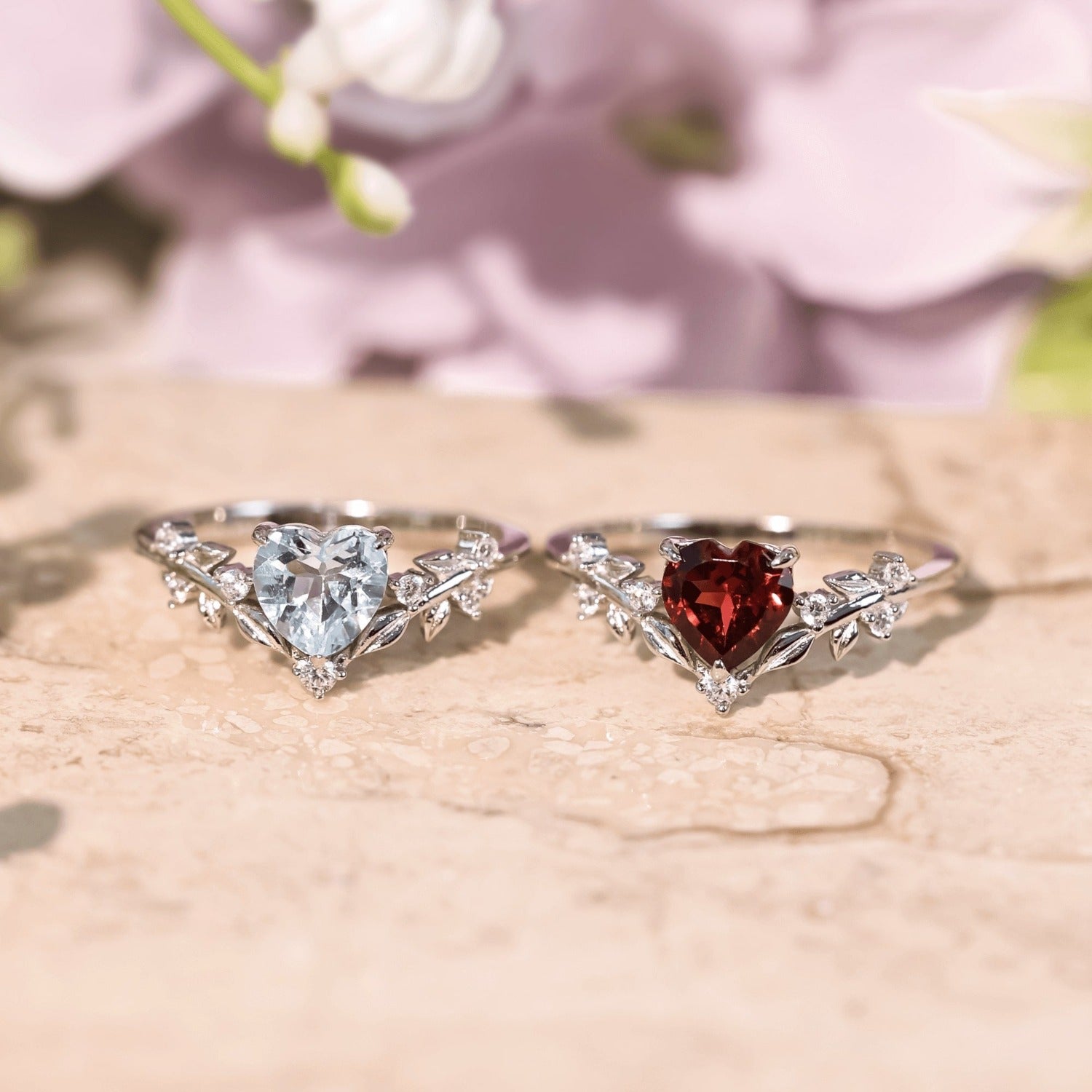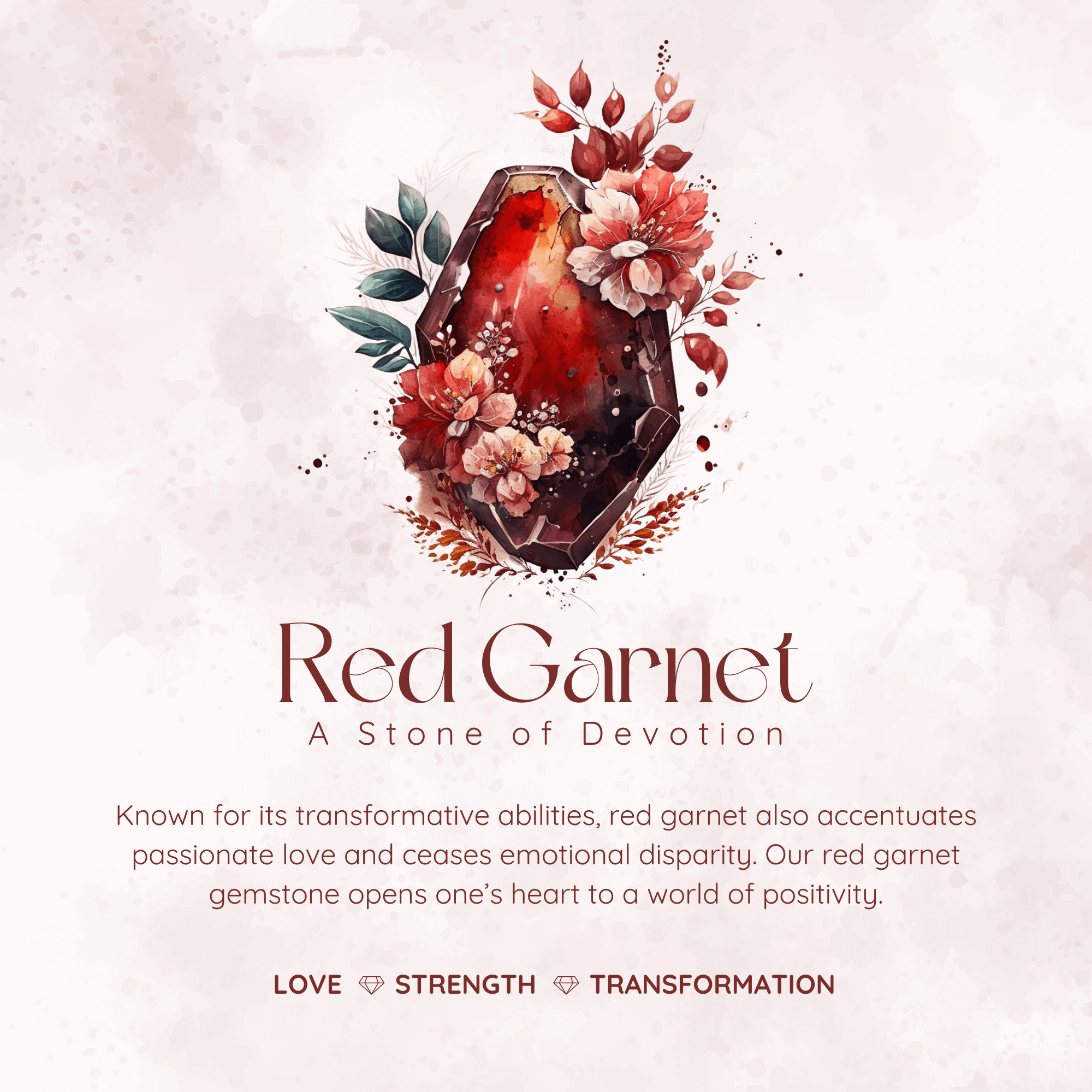 Heart's Desire Red Garnet Ring (White Gold)©
Description
Gemstones
Measurements
Cue the romance with our stunning Heart's Desire Red Garnet Ring. This perfect expression of true love features a heart-shaped red garnet center stone along with a curved white topaz leafy band that adds a natural charm. A cherished keepsake that radiates love from every angle.
✦ Available in both 14K white gold vermeil (14K white gold plated over a sterling silver base) and 10K solid white gold.
Red Garnet (Accent Stone: White Topaz)

Origin: India

Birthstone: January

Meaning: The term "Garnet" hails from "Garanatus," a Latin word meaning "seedlike" characterized by pomegranate.

Powers: Standing as a "gift of love," it connects separated love back again and strengthens broken bonds. Also, thought to safeguard you against depression, negative energy, and bad dreams to come out as a better, stronger person. Preserves health, cures against liver problems, hemorrhage, and builds up survival instinct to boot.
✦ Center Stone: 6mm heart shape Red Garnet
✦ Accent Stone: 1.2-1.5mm round White Topaz
✦ Band Width: 1.5mm
✦ Thickness: 1.1mm
Heart's Desire Red Garnet Ring (White Gold)©
FAQ
Can I exchange the size if it does not fit?
Yes! We offer a one-time free domestic exchange on gold vermeil items. If you would like to change to a different size or design, please contact us with your order number at info@azurajewelry.com within 30 days of delivery. A prepaid shipping label for the piece will be sent to you and the new item will be issued once we receive your return. 
Do you carry half sizes?
Our standard size offering for gold vermeil rings is a whole size between 5 to 9 (size 9 varies depending on the ring design). If you are between sizes, we recommend you to order a half size up. We can also customize it in 10k/14k solid gold between sizes 3-11, including half sizes. Email info@azurajewelry.com and we will help you out.
Will the ring turn my finger green or rust?
No, it will not turn your finger green or rust. Our base metal is nickel-free 925 sterling silver, perfect for sensitive skin. As time goes by, sterling silver can get oxidized. There is nothing to worry, simply use a piece of silver polish cloth to gently rub your ring to clean.
How do I know my ring size? 
There are three ways to know your ring size. 1. Visit our ring size page and follow the measurement instructions. 2. Purchase our ring sizer and measure it at home (recommended). 3. Walk into your local jeweler and have your size measured (recommended). If you have additional questions, email us at info@azurajewelry.com

Our Packaging
Beautifully Presented
Our jewelry boxes are crafted as meticulously as the items they contain and designed to create smiles.
Always Authentic, Natural Gemstones
We work exclusively with authentic, natural stones. Our thoughtful design process embraces the unique shape, cut and brilliance of each gemstone to maximize the beauty and harness the full potential of its magic.