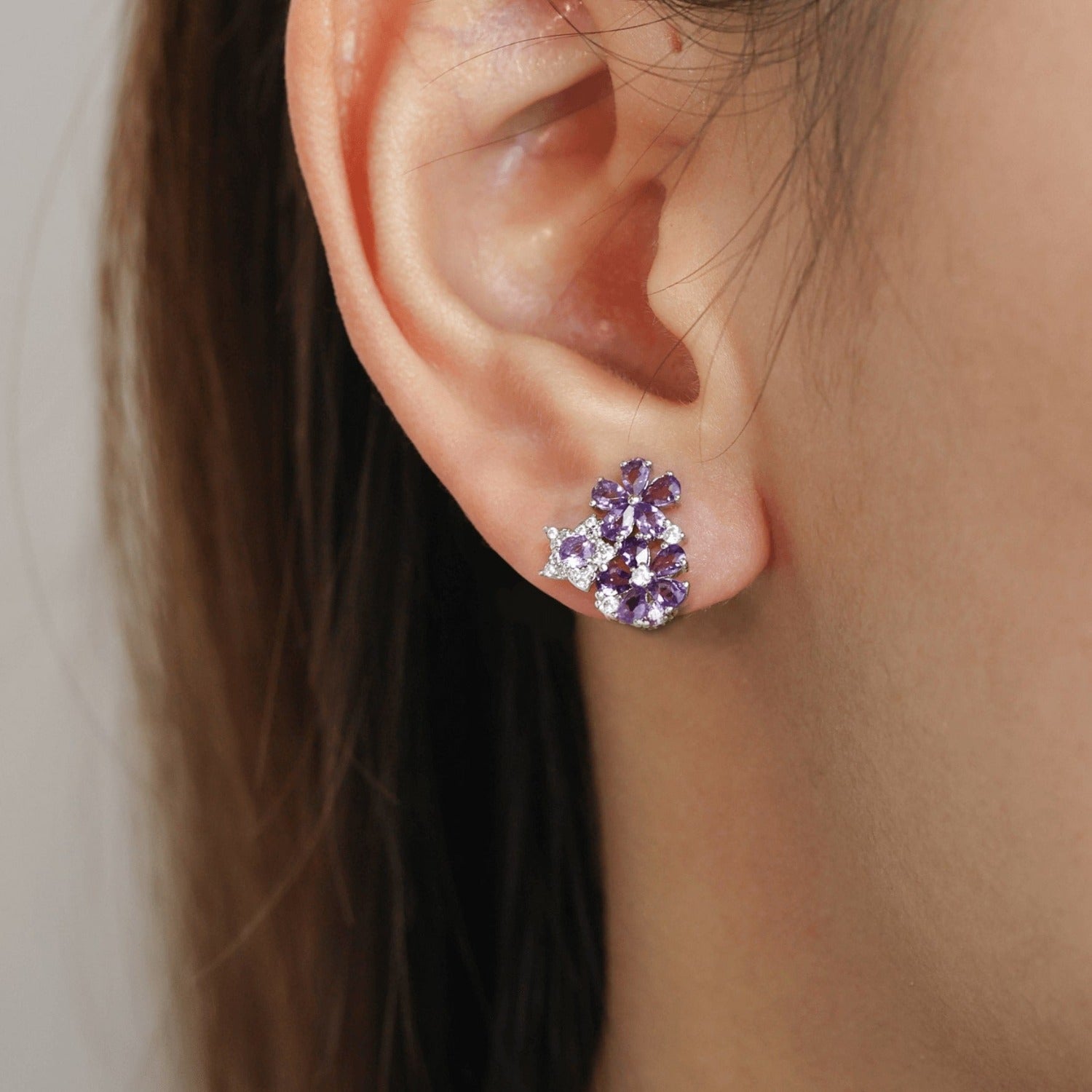 Lilac Blossom Amethyst Earrings (White Gold)
Description
Gemstones
Measurements
Unveil the goddess within you with our exquisite Lilac Blossom Amethyst Earrings. Crafted with artful precision, these earrings showcase amethyst gemstones designed to resemble delicate garden blossoms. Each flower carries a profound connection to the natural world, adding a delightful touch to your jewelry collection. As you wear it, witness your style flourish like a chic goddess nurturing her garden.
✦ 14K White Gold Vermeil (14K white gold plated over a sterling silver base)

Amethyst (Accent Stones: White Topaz)

Origin: Brazil

Birthstone: February

Meaning: The name "Amethyst" arrives from "Amethystos," a Greek word meaning "not drunk" as, in ancient times, people thought it kept drunkenness at bay.

Powers: Seen as a stone of royalty, this promotes a serious, sober mind. It wards off evil thoughts, accelerates intelligence, fights contagious diseases, and guards the wearer against aggression plus violence. Associated with crown chakra to provide shrewdness and prevent a confusing chain of thoughts.
✦ Gemstones: 3x2mm pear Amethyst, 2.5x1.5mm, 1.2-2.5mm round Amethyst, 1.2-2.5mm round White Topaz
Lilac Blossom Amethyst Earrings (White Gold)
Our Packaging
Beautifully Presented
Our jewelry boxes are crafted as meticulously as the items they contain and designed to create smiles.
Always Authentic, Natural Gemstones
We work exclusively with authentic, natural stones. Our thoughtful design process embraces the unique shape, cut and brilliance of each gemstone to maximize the beauty and harness the full potential of its magic.