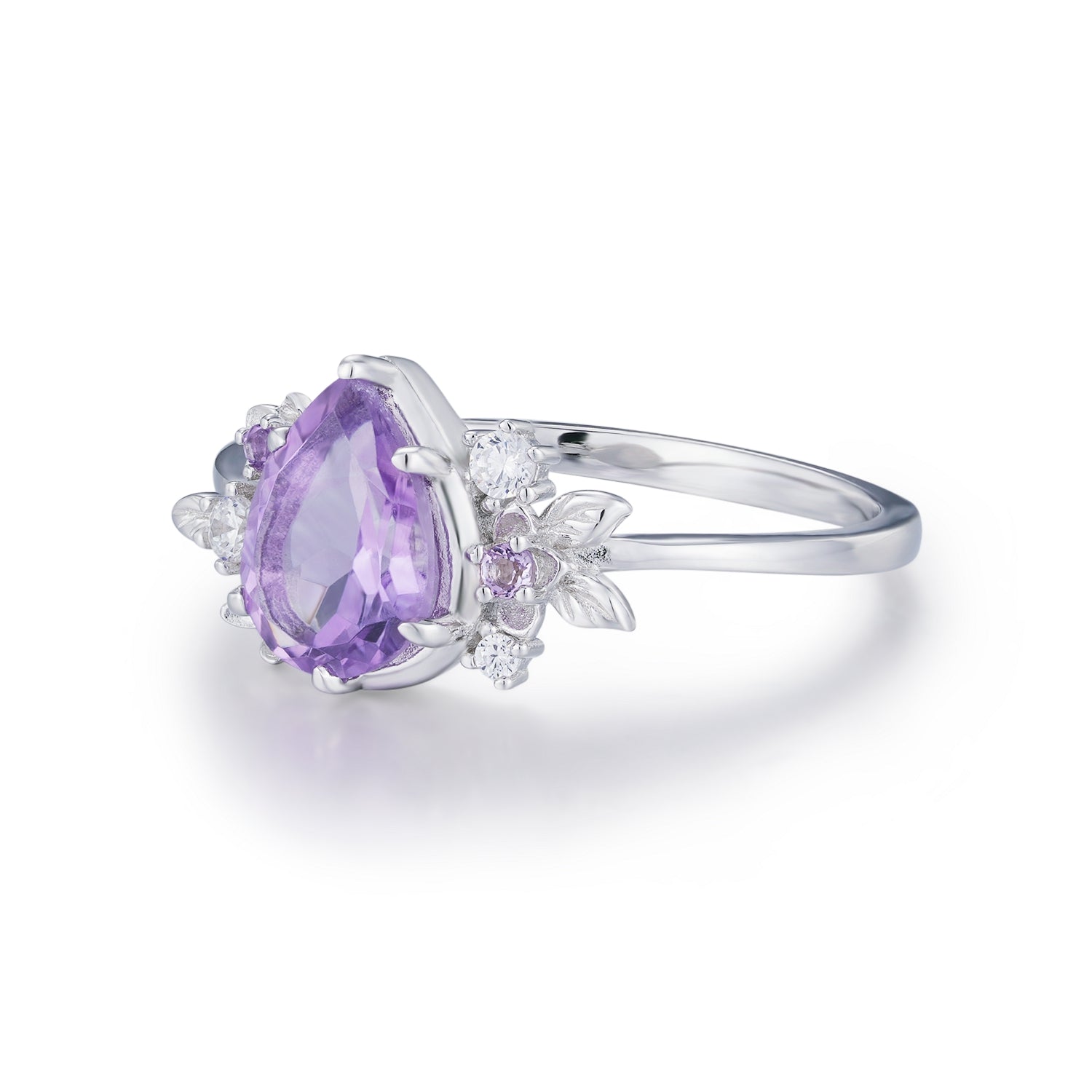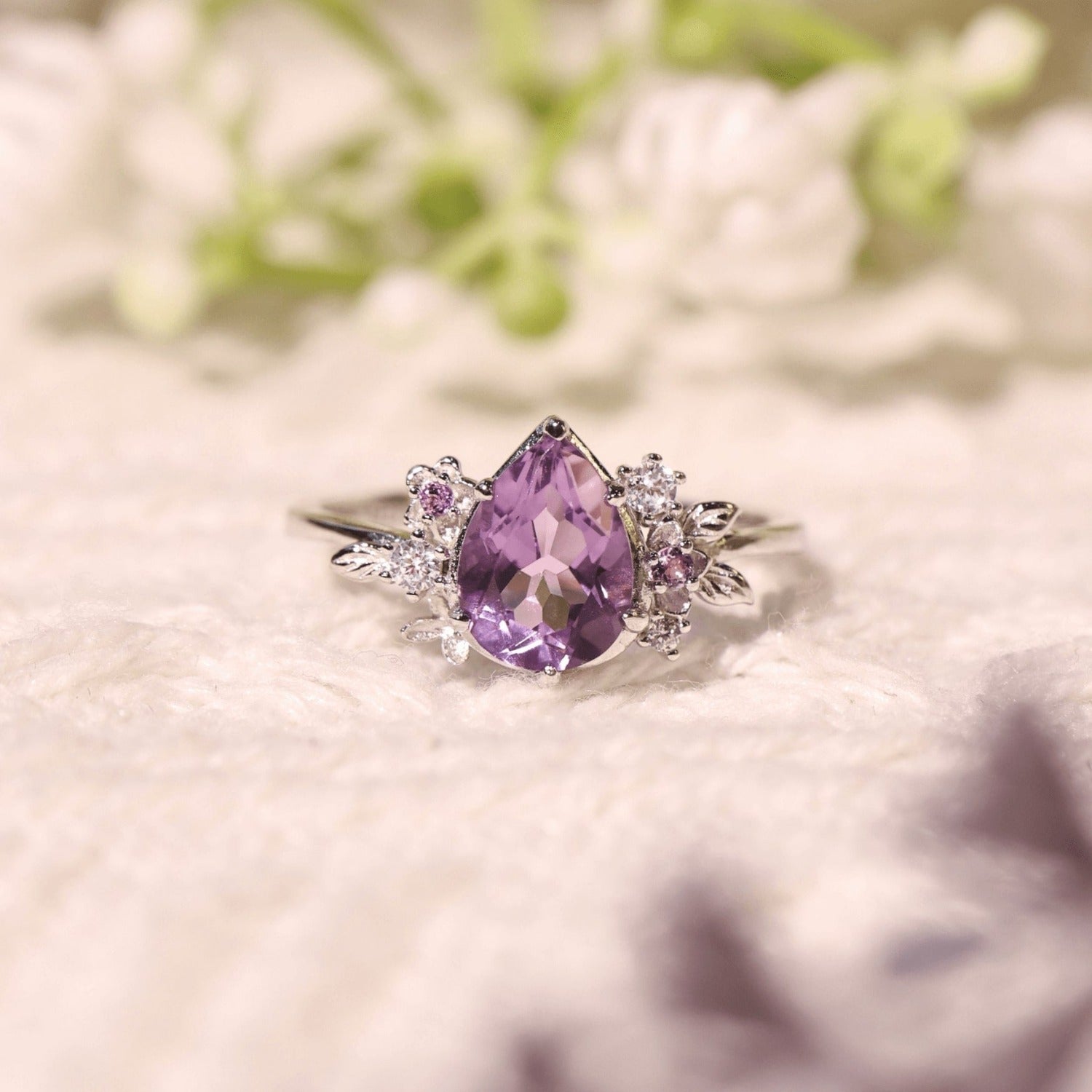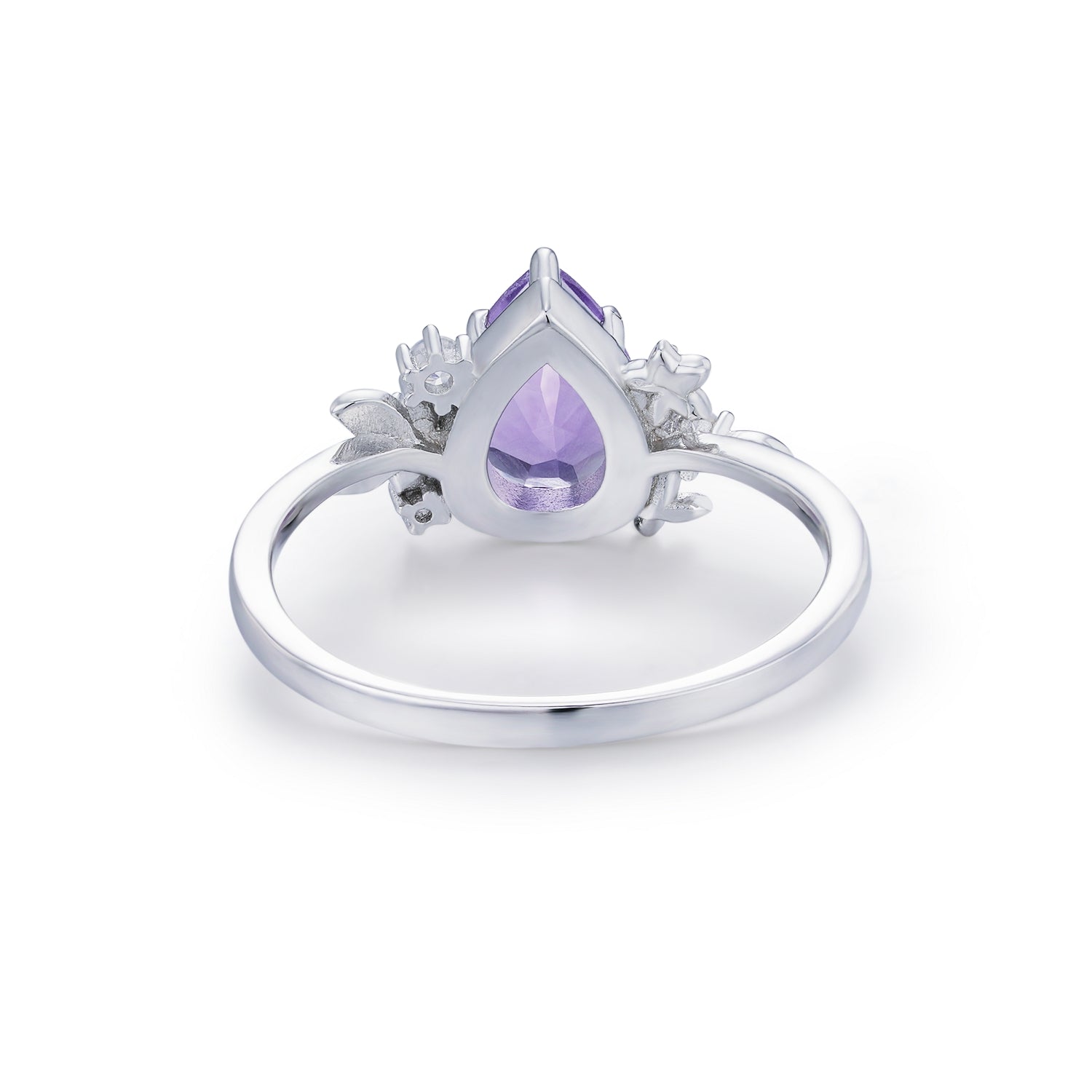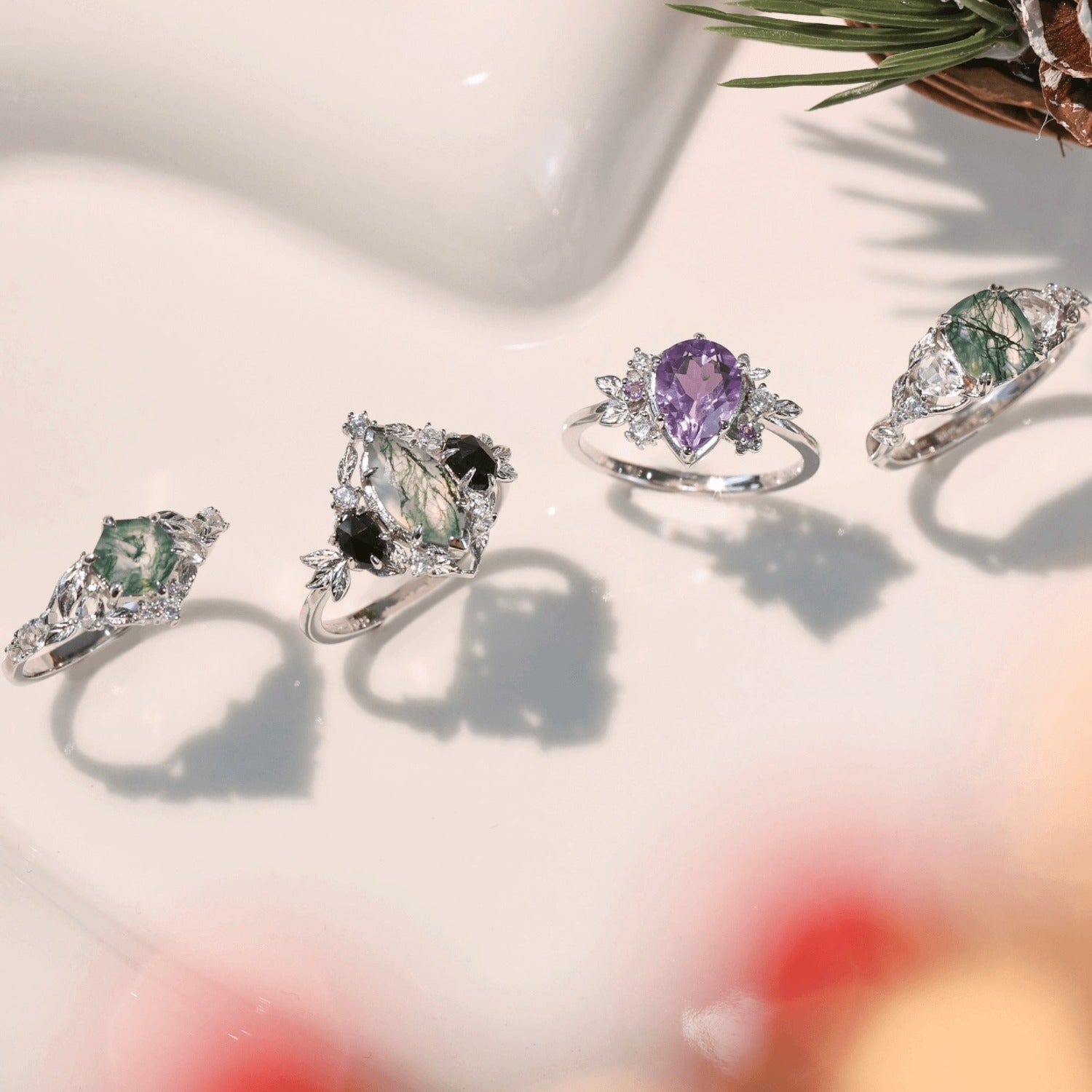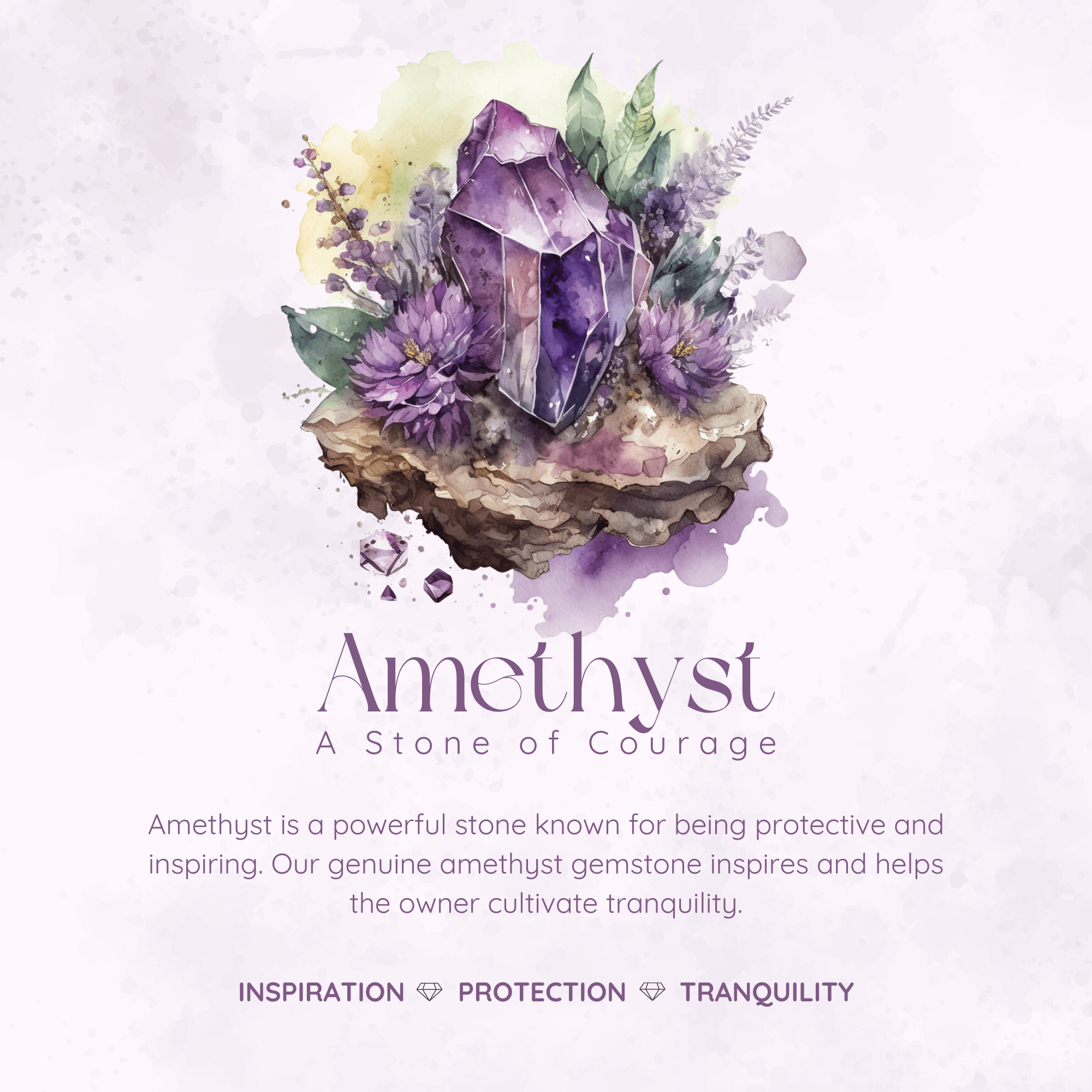 Violet Blooms Amethyst Ring (White Gold)
Description
Gemstones
Measurements
Savor the vibrant beauty of nature with our Violet Blooms Amethyst Ring. At its heart, a captivating pear-shaped amethyst takes the spotlight, radiating its enchanting purple hues. In a setting reminiscent of a delicate flower in full bloom, is embellished with round amethyst and white topaz stones. It's a portrayal of a flourishing garden, where each leaf tells a story of growth, vibrancy, and elegance. Wear this ring as an ode to your personal journey, a celebration of your exceptional and ever-blooming self. 
✦ 14K White Gold Vermeil (14K white gold plated over a sterling silver base) 
Amethyst (Accent Stone: White Topaz)

Origin: Brazil

Birthstone: February

Meaning: The name "Amethyst" arrives from "Amethystos," a Greek word meaning "not drunk" as, in ancient times, people thought it kept drunkenness at bay.

Powers: Seen as a stone of royalty, this promotes a serious, sober mind. It wards off evil thoughts, accelerates intelligence, fights contagious diseases, and guards the wearer against aggression plus violence. Associated with crown chakra to provide shrewdness and prevent a confusing chain of thoughts.
✦ Center Stone: 5x7mm pear Amethyst
✦ Accent Stone: 1.1mm round Amethyst, 1.5mm round White Topaz
Violet Blooms Amethyst Ring (White Gold)
FAQ
Can I exchange the size if it does not fit?
Yes! We offer a one-time free domestic exchange on gold vermeil items. If you would like to change to a different size or design, please contact us with your order number at info@azurajewelry.com within 30 days of delivery. A prepaid shipping label for the piece will be sent to you and the new item will be issued once we receive your return. 
Do you carry half sizes?
Our standard size offering for gold vermeil rings is a whole size between 5 to 9 (size 9 varies depending on the ring design). If you are between sizes, we recommend you to order a half size up. We can also customize it in 10k/14k solid gold between sizes 3-11, including half sizes. Email info@azurajewelry.com and we will help you out.
Will the ring turn my finger green or rust?
No, it will not turn your finger green or rust. Our base metal is nickel-free 925 sterling silver, perfect for sensitive skin. As time goes by, sterling silver can get oxidized. There is nothing to worry, simply use a piece of silver polish cloth to gently rub your ring to clean.
How do I know my ring size? 
There are three ways to know your ring size. 1. Visit our ring size page and follow the measurement instructions. 2. Purchase our ring sizer and measure it at home (recommended). 3. Walk into your local jeweler and have your size measured (recommended). If you have additional questions, email us at info@azurajewelry.com

Our Packaging
Beautifully Presented
Our jewelry boxes are crafted as meticulously as the items they contain and designed to create smiles.
Always Authentic, Natural Gemstones
We work exclusively with authentic, natural stones. Our thoughtful design process embraces the unique shape, cut and brilliance of each gemstone to maximize the beauty and harness the full potential of its magic.