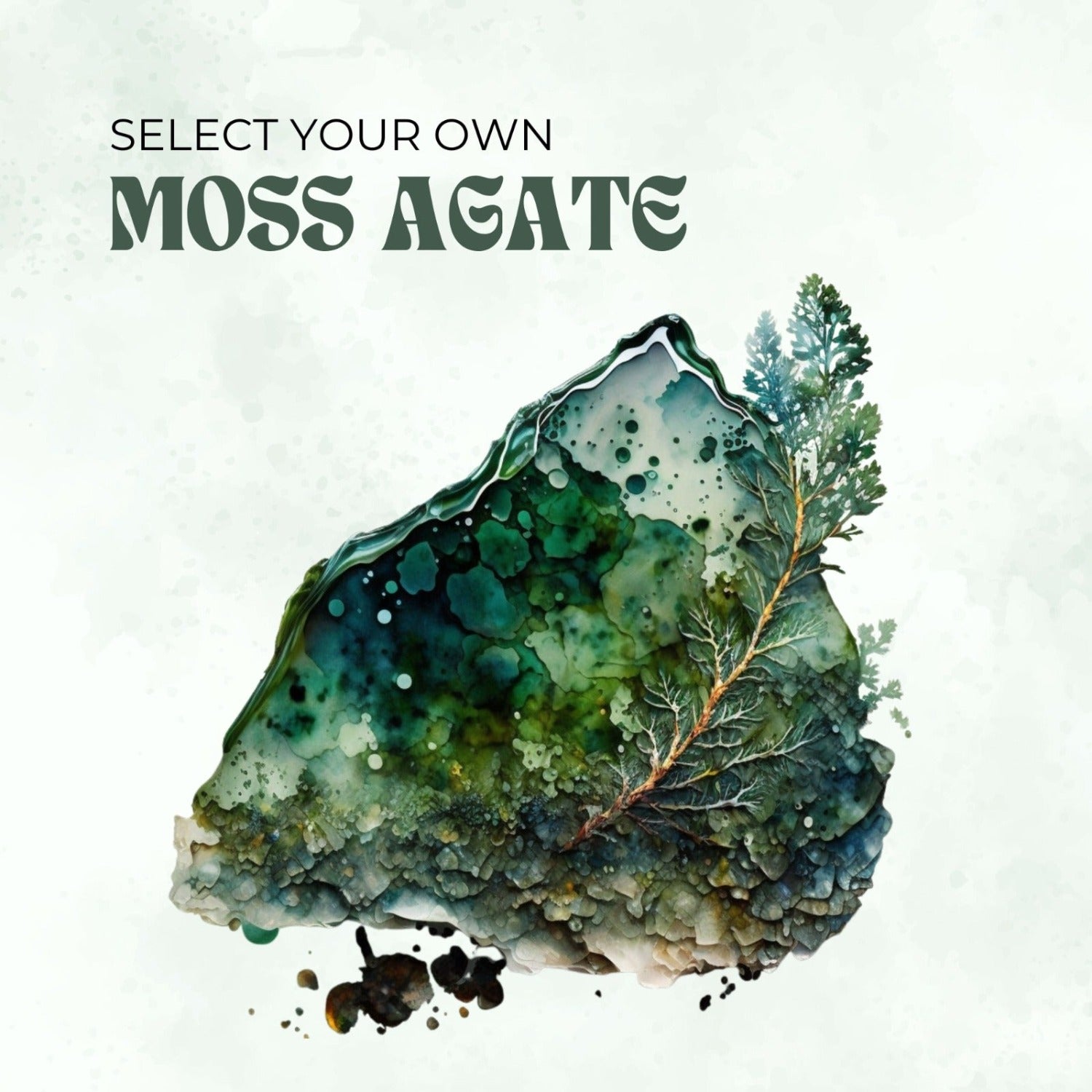 Moss Agate Picking Service
Introducing our Moss Agate Picking Service: You have the opportunity to hand-pick your desired pattern from our exquisite in-stock and made-to-order moss agate collection. This personalized approach ensures that the moss agate jewelry you choose perfectly aligns with your distinctive style. 

Here's how it works:
Please note that the Moss Agate Picking Service fee applies to a single product only. If you have multiple moss agate products in your cart and wish to select patterns for each of them, kindly add the desired quantity to your Moss Agate Picking Service order accordingly.
Upon receiving your payment for the Picking Service, we will present you with five options based on the design you requested. These options will be sent to you via email as pictures within 1-2 business days for in-stock items and within 3 business days for made-to-order. You'll have the freedom to let us know your desired choice within 2 business days.

Once you've confirmed your selection, your order will be prepared and shipped within 1-2 business days for in-stock items and 3 weeks for made-to-order. This way, you'll receive your order with your desied moss agate pattern swiftly after confirming.
Moss Agate Picking Service
FAQ
Can I exchange the size if it does not fit?
Yes! We offer a one-time free domestic exchange on gold vermeil items. If you would like to change to a different size or design, please contact us with your order number at info@azurajewelry.com within 30 days of delivery. A prepaid shipping label for the piece will be sent to you and the new item will be issued once we receive your return. 
Do you carry half sizes?
Our standard size offering for gold vermeil rings is a whole size between 5 to 9 (size 9 varies depending on the ring design). If you are between sizes, we recommend you to order a half size up. We can also customize it in 10k/14k solid gold between sizes 3-11, including half sizes. Email info@azurajewelry.com and we will help you out.
Will the ring turn my finger green or rust?
No, it will not turn your finger green or rust. Our base metal is nickel-free 925 sterling silver, perfect for sensitive skin. As time goes by, sterling silver can get oxidized. There is nothing to worry, simply use a piece of silver polish cloth to gently rub your ring to clean.
How do I know my ring size? 
There are three ways to know your ring size. 1. Visit our ring size page and follow the measurement instructions. 2. Purchase our ring sizer and measure it at home (recommended). 3. Walk into your local jeweler and have your size measured (recommended). If you have additional questions, email us at info@azurajewelry.com

Our Packaging
Beautifully Presented
Our jewelry boxes are crafted as meticulously as the items they contain and designed to create smiles.
Always Authentic, Natural Gemstones
We work exclusively with authentic, natural stones. Our thoughtful design process embraces the unique shape, cut and brilliance of each gemstone to maximize the beauty and harness the full potential of its magic.